As we discussed in
a previous post
...I had determined what I wanted to do for painting the two sides in this scenario...then I gave it some more thought, and remembered
I had this nifty set of colors from LifeColor.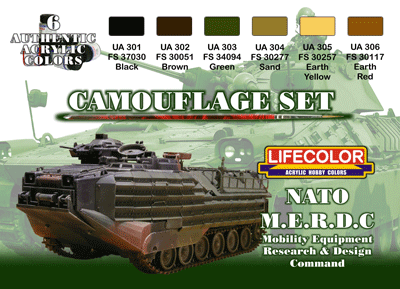 God Bless Amazon!
What can I say, I really liked the results!. They aren't as hardwearing as Vallejo or any of the other hobby paints out there, but they do a better job of color matches than anything I have seen and the results speak for themselves.
I at this stage have added Vallejo 993 Grey White, and then put P3s Morrow White atop it. It looks great layered and I intend to use it for all my ComStar stuff from now on.


This is after the application of all three Lifecolors, then a highlight of the Green with 5 parts Warthog Green to 1 part Morrow White. I did heat sinks and Jump Jets in BF's Rocket Steel, and then hit it all with some Magik Mudd Wash. In short, it looks marvelous. Cockpits are in Vallejo's Gloss Black, and Weapons Ports are Vallejo Dark Grey.



I must say, so far, so good IMO. I still have some detail work, basing, weathering and decals to do (not necessarily in that order..) but I am happy with the progress thus far. Now if I can just get the detail lines to be a bit more...pop. Thought the wash would accomplish this, but...
Progress thus far!